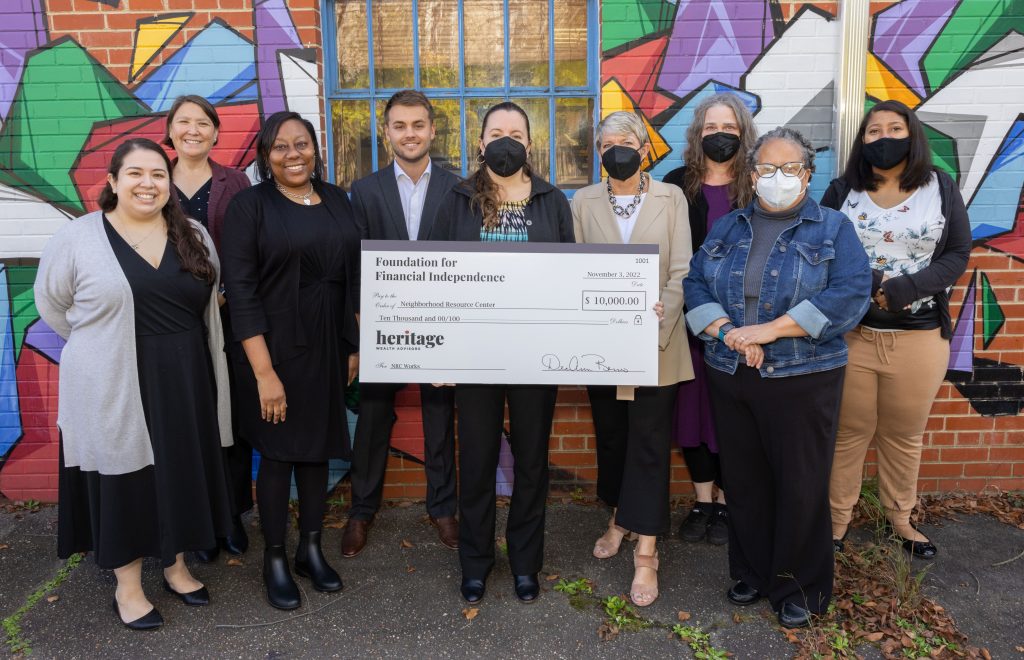 Inaugural grant awardees, Neighborhood Resource Center and Southside Community Development & Housing Corporation, each received $10,000 to support their work in building economic security for individuals and families in the greater Richmond, VA area.
Created in late 2021, the Foundation for Financial Independence (FFI) supports access to financial literacy and wealth-building tools for people historically left out of wealth building opportunities. Through funds donated by Heritage Wealth Advisors, FFI will continue to award grants to nonprofits that provide financial education, employment coaching, and other services that build wealth and financial strength.
"We sincerely believe that in a community with equitable opportunities for good jobs and ways to build family wealth, people can reach their goals and create a brighter future – for themselves and for the whole community," said Takisha Robinson, Portfolio Operations Manager at Heritage, and a member of FFI's grant committee.
Takisha, along with colleagues Paty Himes, Client Administrator & Marketing Specialist, and Trey Childers, Investment Analyst, formed the committee that spent several months learning about the community and local nonprofits. Heritage's Director of Philanthropy, Elaine Summerfield, guided the team throughout the process. Their diligence and thoughtfulness resulted in the grant awards to Neighborhood Resource Center (NRC) and Southside Community Development & Housing Corporation (SCDHC) this year.
The $10,000 grant to NRC Fulton will support its Financial Opportunity Center, known as NRC WORKS. "Our community members come to us with a variety of goals, such as finding a better job, addressing the cost of living, or saving for a new home," said Breanne Armbrust, executive director of the Neighborhood Resource Center. "With our Financial Opportunity Center, we personalize financial coaching to meet each individual where they are. Credit scores for our members improve by 183 points on average and average net assets increase by $1,000 per month!" 
"We appreciate the respect that Heritage and its Foundation for Financial Independence displayed when learning about our clients and how we work with them to achieve their goals," said Dianna Bowser, SCDHC President & CEO. "This grant will help ensure we continue to serve the growing number of people coming to us for assistance." SCDHC will use the $10,000 grant to support its bilingual financial services, which includes holistic financial and employment coaching, as well as a homeownership counseling program.
Heritage Wealth Advisors was founded by Dee Ann Remo in 2005. Dee Ann grew up in rural Maryland and as a teen worked at her family's store. She became aware that people of modest means often struggled financially, and how that affected the level of control they held over their lives. "I hope our foundation serves as an example that any business, whatever the size, can decide to make meaningful investments in our community," said Dee Ann. In the years ahead, Heritage will continue to grow its Foundation for Financial Independence and award grants to local nonprofits aligned with its mission.
As Trey reflected on his experience with the grants committee he remarked, "It was eye-opening to learn about the health disparities in the city, and how that relates to income and wealth. There are many great nonprofits working on issues related to our mission – I'm glad we'll have the chance to partner with more in the future."